A collection of art related books from the library of Sir Arthur Lasenby Liberty, founder of one of London's best known shops Liberty & Co in Regent Street, are going under the Charterhouse hammer in their auction on Friday 19th January.
"The name Liberty is synonymous with design and the books from the library are a good run the popular arts books called The Studio Magazine." Commented Richard Bromell. "The Studio Magazine was founded in 1893 by Charles Holme who had previously travelled with Sir Arthur and his wife through Japan and America so it is not entirely unsurprising that Sir Arthur collected the books from volume I in 1893."
The Studio Magazine was international in scope and promoted the work of new art artists, architects and designers. The books going under the Charterhouse hammer are mostly bound to match and run to 111 volumes, albeit with the occasional missing volume, and are estimated at £600-1,000*.
Coming to the Charterhouse auction from a family relation, who still bears the famous Liberty name, there are also a couple of other volumes which are included in the lot. One of these books is an 1854 copy of The Works of Eminent Masters in Painting, Sculpture, Architecture and Modern Art which might have sparked an interest in the arts and design for a 13 year old Arthur Liberty as it was a school presentation copy inscribed "To Arthur Liberty as a prize for voluntary application and general good behaviour…1856."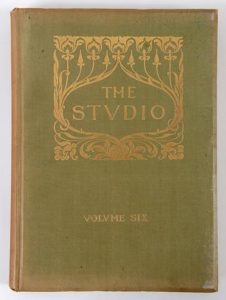 Charterhouse is now accepting further entries for their busy programme of specialist February auctions which include classic motorcycles on 4th and classic cars on 11th closely followed by silver, jewellery, watches and wine on 16th.
For further information regarding these auctions, or to arrange a home visit, please contact Richard Bromell at Charterhouse, The Long Street Salerooms, Sherborne 01935 812277 or email items for valuation at
The collection of The Studio Magazine and a small group of other volumes from the library of Sir Arthur Lasenby Liberty going under the Charterhouse hammer in Sherborne on Friday 19th January £600-1,000*
*Plus 21% buyer's premium