Clients selling through our auctions all have different reasons to be disposing of their items. More often than not, it is because a family member or friend has passed away or because they are downsizing and moving home, but every once in a while, they sell and donate the proceeds to a favourite charity or to one which is close to their hearts.
In our 30th March classic and vintage motorbike auction, being held at the Haynes International Motor Museum, three bikes have been consigned from a client with the proceeds of sale being donated to support the Motor Neurone Disease Association.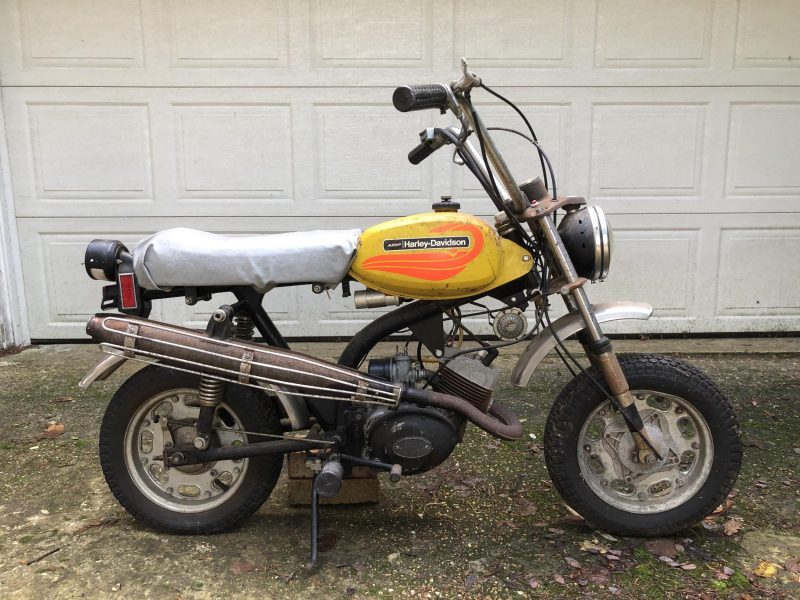 I say motorbikes, but they are in fact little bikes more commonly referred to as mini-bikes due to their diminutive size.
All three have had little use and been garage stored for some time. The three mini-bikes comprise a 1968 Hodaka Ace 100, a 1970 Honda QA50 E-A and a 1972 AMF Harley-Davidson MC 65 Shortster.
To many it is the AMF Harley-Davidson which will give the biggest smile as most people associate Harley Davidson motorbikes as having big Vee twin engine – whereas this one has just a 68 cc motor! In addition, this little Harley is one of the rarest bikes they produced as it was only made for a year in small numbers before they changed the 68 cc engine to a whopping 90 cc.
In 1960, Harley-Davidson purchased a 50% ownership in Italian bike firm Aermacchi which was the start of some creative bikes. This little-known partnership that should have been a landmark in the industry was the main impetus for dipping their toes into the boutique micro-bike market when they may have never even gone down this road.
All three bikes, not entirely unsurprisingly, have not travelled far over the past 50 years or so. In addition, we are told by the client none of them have been on the road since about 1980 but stored safely in a dry garage.
Now having been dragged out of their slumber and into the daylight, they are all being sold without reserve on the 30th March. They will all need some re-commissioning work to get them running again but this should not be a problem to anyone handy with a spanner who can read a manual – there are no computer brains in these bikes.
The owner will be pleased to see them have a new lease of life and to raise some money along the way for a very worthy charity.
George Beale can be contacted at Charterhouse Auctioneers in Sherborne for advice on classic & vintage bikes. You can email images to George for valuation on bikes@charterhouse-auction.com or phone him on 07808 159149.
1972 AMF Harley Davidson MC 65 Shortster.