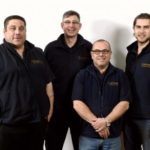 Saleroom Porters and Van Staff
Charterhouse Boy Band
The Charterhouse Crew of David 'Newt' Newton, David Sims, Dan Peacock, Johnny Villas and Rupert Heale are the Charterhouse lifting and shifting crew.
With decades of experience between them they know how to handle a Regency secretaire bookcase or pack a fragile suite of Venetian glass. The van offers a collection service from a single item through to a complete house clearance.
They are very obliging and happy to help, especially if a mug of tea is on offer!